As a collector of pre-war sports cards and memorabilia the name that most often comes up when talking to collectors and non-collectors alike is that of George Herman Ruth. For nearly a century The Babe has been synonymous with baseball, and the result has been impressive prices for his cards, signature, and especially his game used memorabilia. This has led to something of a backlash among some collectors, who view not collecting Ruth as something of a trendy counter-culture choice. I had considered myself one of those collectors.
As a New Yorker especially I found myself inundated with the looming presence of The Bambino at every card show – not just in the displays, but in the conversations concerning the greatest players and the greatest cards. It should be noted that my first card purchase over $1,000 was in fact a 1933 Goudey Babe Ruth – #181 if you were wondering. However, this card was never really for me – it served the dual purpose of answering the question of curious onlookers of, "Do you have Babe Ruth?", and also helped pacify a concerned mother worried about overspending on a baseball card. For Babe Ruth of course it was "okay".
However, there would be no other Babe Ruth cards in my collection. Instead, my focus would turn to Christy Mathewson – a choice well regarded by many pre-war collectors, who also turned their nose up about the fat man who "ruined" the purist's game with the home run.
When my invitation came to attend the 2013 Living Legend Award  last Friday it came with the promise of meeting recipient Cal Ripken Jr. and Bill Mazeroski, but just as prominent was the ability to hold a bat used by Babe Ruth. When I walked into the museum, the area where the Ruth bat was kept was the first area that came into view. It was a "must do" according to all in attendance and I quickly found myself sliding on curator's gloves and talking a museum employee. A moment later the 38.6 oz bat was in my hand and I was posing for photos – but as one friend pointed out I was using the 'hands apart' grip favored by Ty Cobb, rather than the 'hands together' grip that Babe Ruth copied from Joe Jackson.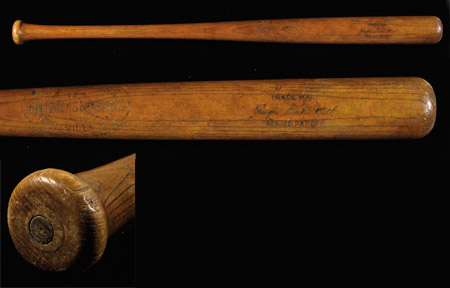 As I held the bat – unable to take a swing for obvious reasons – it was hard not to feel the history. Dating from the earliest period of his career from 1917-21, the Babe would have been in his early-to-mid 20s and at the crossroads of his career. Ruth could metamorphose from the best pitcher in the American League in the 1910s, into the greatest home run hitter the game would ever see. Somewhere along that line this piece of hand-turned ash was painfully crafted to exact specifications on the banks of the Ohio River in Louisville where I now stood – symbolically it had come home.
Where it had been between Ruth and I was an interesting story. The bat had come into the possession of one Kurt Vinman – a Swedish asphalt magnate who had helped first pave the streets of Stockholm. Vinman traveled to New York in 1920 and '21 where he met with many baseball figures including Charles Hercules Ebbets of the Brooklyn Dodgers. Returning to Sweden – the land of my maternal grandmother – with the bat in tow it remained in the originally family's possession until it became what David Hunt so humorously called, "the only consignment in our company's history from Sweden!"
When the hammer fell on lot #525 in the Louisville Slugger Museum & Factory live auction on Saturday my brief encounter with the bat had ended. Gone to an anonymous phone bidder for the princely sum of $69,000 – just slightly out of my price range. However, it left me forever changed in the way I viewed Ruth and how condescendingly I had dismissed him. After all that was the original charm of the Sultan of Swat – if you got to spend even a moment with him, he had you for life.