They did it. A century and eight years of waiting ended with the victorious conclusion to the 2016 World Series. Fans and collectors who follow them can never get enough so we've compiled a list of great gifts for Cubs fans you can keep handy.
No matter how much you have to spend and no matter how much Cubs memorabilia they may have already bought, there are plenty of things out there that they'll still go wild over.
Cubs Gifts Under $25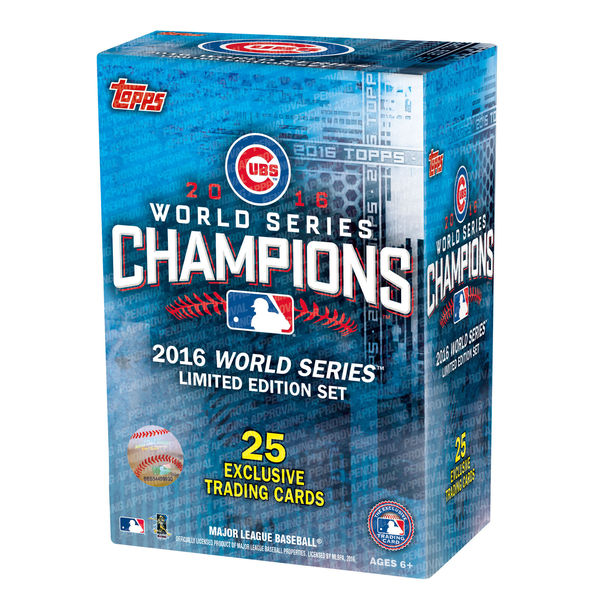 Cubs fan gift ideas don't always come in expensive packages. You can buy this complete special edition Topps baseball set commemorating their first title since 1908 for $24.99 or this one that doesn't come in the fancy box for less than that (it should fit inside a good size stocking).
Want something even smaller? There are all kinds of Kris Bryant cards available for under ten bucks, including his basic rookie cards.
One of the nicer things you can buy for a fan who wanted to go to the World Series but couldn't afford it is the official game program. There were three of them issued: one for Wrigley Field; another sold during the games in Cleveland (including Game 7) and a national newsstand edition. They're starting to disappear but you can still find them on eBay for around $15-$20 each.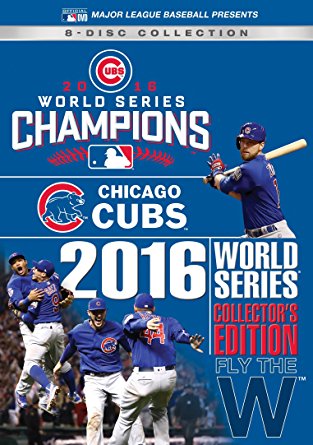 Among the most popular Cubs baseball gifts right now is the 2016 World Series highlight DVD which captures all of the big moments from the Series. Amazon has them via this link. They won't be released until December 13 so chances are your gift getter won't already have it. If you want to spend a little more, there's an 8-disc set with the complete game broadcasts from Fox that should make winter go a lot faster.
Newspaper sales have been declining but they were hot in Chicago the day after the Cubs won it all. You can own copies of the Tribune and Sun-Times for next to nothing.
And speaking of publications, there are several great books on Wrigley Field you can grab for under $25. All of them are great gifts for Cubs fans who love the old ballpark.
2016 Cubs World Series Christmas ornaments have now been released with several different types available and most available here for under $25.
Wearable items will be the big statement for fans of the blue. Followers of MLB teams generally love to wear the same apparel they saw their favorite team wearing during and after the pivotal games. That's why knit caps will be a big item over the holidays. Generally speaking, Cubs fans can be outfitted and keep their ears warm for around $20-25.
Under $100
Ernie Banks, Billy Williams and Ron Santo are arguably the three most popular Cubs players of all-time and while Ernie and Ron are no longer around to share in the Series fun, Cubs fans swoon over their old baseball cards. You can own all kinds of them for well under $100 (Santo and Williams rookie cards are in the 1961 topps set, by the way).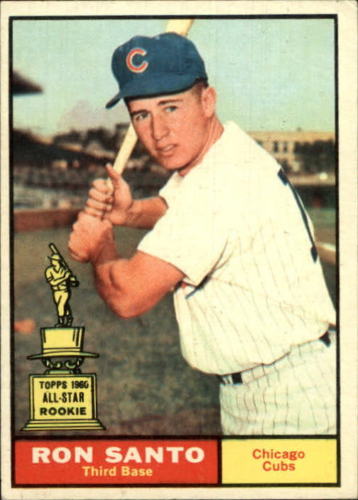 If you're looking for one item that sums up the season and can hang on the wall, this framed photo collage with scores of all of the post-season games is pretty solid piece. It's part of the Fanatics Cubs World Series champions collection.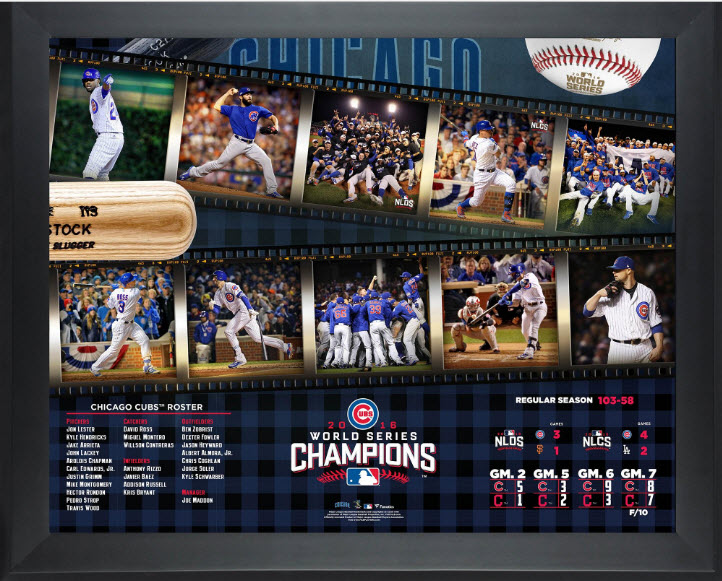 If your giftee is a bobblehead sort of person, there are some Cubs World Series trophy models on the market for under $35.
World Series hoodies typically range from $50-$75 and will keep even the coldest Cubs fan warm at night. With the high demand, there are deals less than $50. Cubs fans can also sport a 2016 World Series Champion watch for a little less than $70.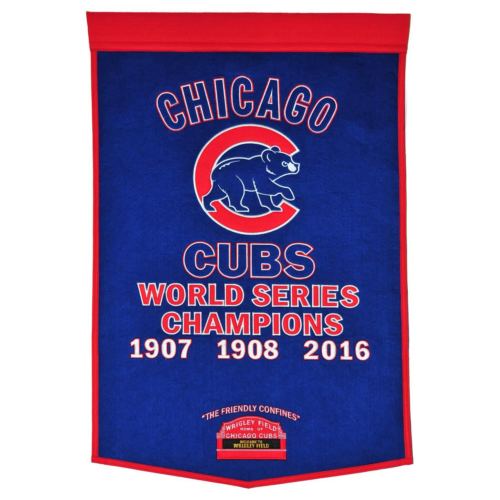 Fans always love a good wall hanger. A dynasty banner revealing the 1907, 1908 and 2016 titles is a unique item that illustrates just how crucial 2016 was and always will be for fans of Wrigley Field. When a team goes more than a 100 years between titles, it's only fitting to have something sentimental to celebrate the start of a new era. Cubs fans could share the love for less than $70.
Under $300
Cubs fan gift ideas do indeed stretch from a few bucks to a few thousand but it's the in between stuff that's often most popular.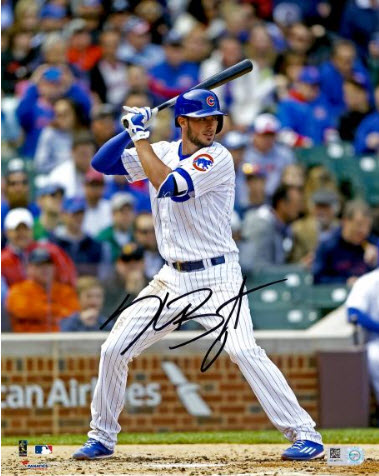 Ben Zobrist was the World Series MVP but the man who put the Cubs over the top is Kris Bryant. The young third baseman has an incredibly bright future but he's already a big star. You can own a very nice autographed 8×10 photo of him at the plate at Wrigley for $250 (or less if there's a special).
One of the most popular sellers in the aftermath of the Series were the official World Series baseballs signed by Bryant in the days following the game. If you want to get your own autographs, you can buy those 2016 Rawlings World Series baseballs by themselves.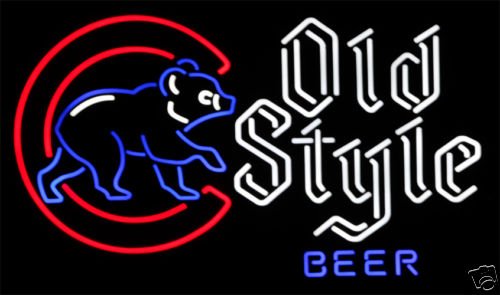 You can spruce up a fan cave, bar or office with a Cubs neon sign like you'd see in your local bar for $100-$150 and have it in a few days.
Topps created numerous special 'print-to-order' sets of Cubs cards during their run to the title with most available only for a day or a week. They commemorate milestones during the championship run and while you can't buy them direct anymore, you can grab them on eBay. Most all are very limited in quantity and should hold up fairly well over time.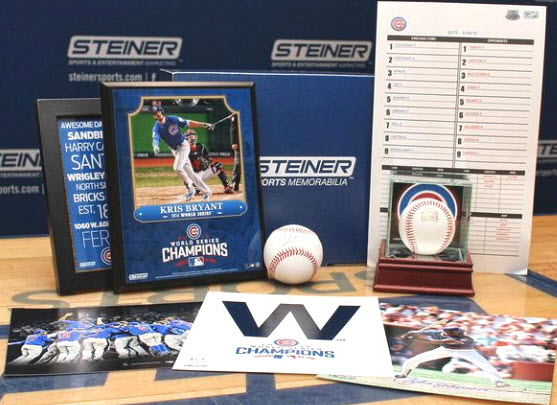 If you want something prepackaged for a Cubs fan that includes a little of everything, Steiner Sports' gift boxes might be the thing for you. They're sort of like Cubs gift baskets and include autographed items, display pieces and sometimes game-used items. Other teams are available as well. You can get more info here and use COLLECT2017 as a code to get 20% off.
$300-$500
Despite having the best record in baseball, many analysts still presumed the Cubs were dead after falling behind 3-1 in the best of seven series. Chicago would have to win three in a row, two of which were on the road, to pull off the astonishing feat and remove the curse. Perhaps that statement deserves something more authentic and symbolic of the magnitude of what eventually turned into celebration in Cleveland.
Cubs fans who have their own trophy case, which has been empty of championship items for over a century, might opt for something fancy.
If the person you're buying for has autographed baseballs or bats, these team logo cases are great to display them in.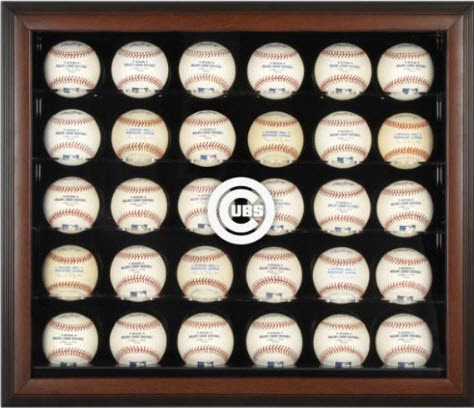 A Waterford Crystal, which illuminates the title run, can add Cubs fever to any household for years to come for less than $350.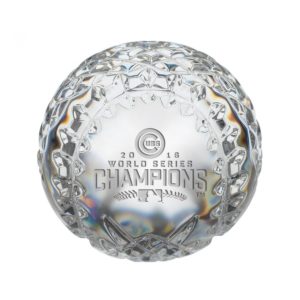 Very limited in number, Topps also created special versions of those NOW cards that include a little game-used material. For a few hundred dollars, you can own a game used base relic.
Ultimate Cubs Fan Gifts
If you're looking for something truly special and have the resources, you can buy plenty of cool stuff.
Want something directly from the field of play? Game-used Cubs jerseys, balls, bats and other items are another great gift for a Cubs fan and/or collector.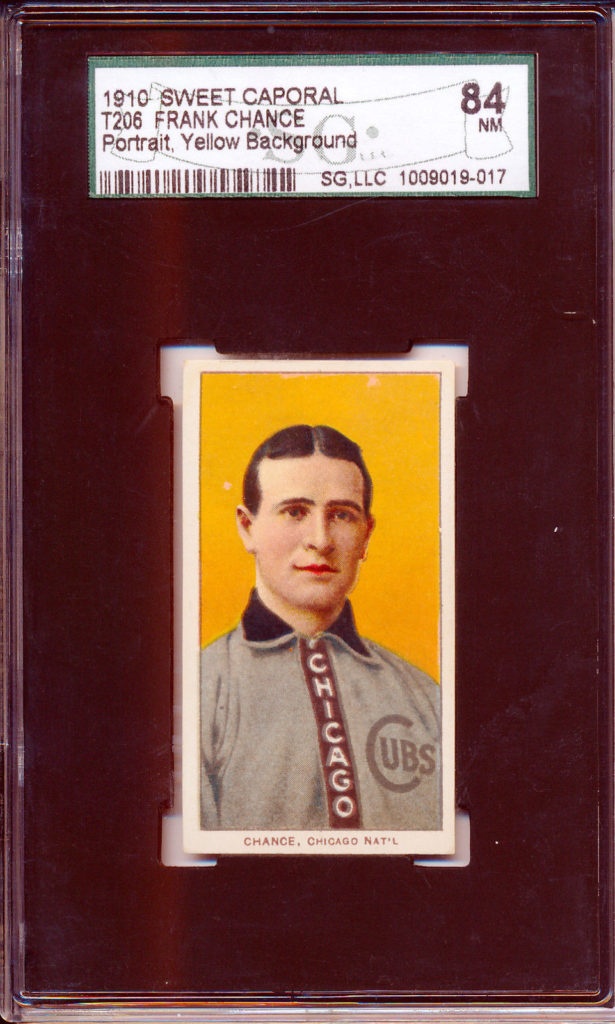 Of course, the Cubs hadn't won the World Series in 1908 and you can own a team set of original T206 tobacco cards of Cubs featuring players like Joe Tinker, Johnny Evers, Frank Chance and Mordecai 'Three Finger' Brown (or shop for individual cards). For a Cubs fan who appreciates history, it doesn't get much better.
One of the sharpest pieces we've seen is a shadow box that comes with 12 autographed baseballs hand-signed by Kyle Hendricks, Javier Baez, Dexter Fowler, Addison Russell, Anthony Rizzo, Jon Lester, Kris Bryant, David Ross, Ben Zobrist, Kyle Schwarber, Wilson Contreras and Aroldis Chapman.
It includes aphotograph of each player, the Cub's logo, the "W" flag, the 2016 post season results along with a mention of their three championship years–all inside a black frame. Only a few were available at last check. See them here.
Among the popular items in the aftermath of the season were Cubs team-signed baseballs, bats, jerseys, helmets and display pieces with autographs of 20 of the major players (Bryant, Rizzo, Russell, Hendricks and more) for $2500 and up.
The bottom line is that winning has a way of making every piece of memorabilia just a bit more important. Especially true for the heart of Chicago Cubs fans-who have been waiting for their opportunity for a lifetime.