Sons of former major league players are en vogue around baseball nowadays. The Toronto Blue Jays are sporting three of them on their roster, Vladimir Guerrero Jr., Bo Bichette and Cavan Biggio. It's not only Canada that features plenty of kids of former big leaguers. All-Stars such as Fernando Tatis Jr., Cody Bellinger and Joc Pederson, also had fathers who made it to the show, just to name a few. Collectors tend to enjoy cards of these types of players because they have the perception of already being known quantities.
The next potential star to join that list is Kansas City Royals shortstop/third baseman Bobby Witt Jr. He's the son of Bobby Witt, who spent 16 seasons in the major leagues as a pitcher.
Witt Jr., a former No. 1 prospect and second overall pick in the 2019 draft, has had a very promising start to his big league career. Witt Jr. has incredibly similar stats to fellow Rookie of the Year award contender Julio Rodriguez. Much like Rodriguez, Witt Jr. has hit 15 home runs and stolen over 20 bases within 100 games played. The Royals are hoping that Witt Jr. can be their franchise cornerstone. His baseball card collectors are also hoping that he can continue his stellar play.
Since Witt Jr. is just a rookie, he'll have more cards to chase as time goes on. But, between his prospect cards and a few true rookie cards, there's enough out there for baseball fans to pick up and hang on to.
Witt Jr. has been doing a little bit of that himself…
A football & baseball collector, @BwittJr dropped us some photos from his first PSA Mail Day. #TheHobby pic.twitter.com/mnob4srcDl

— PSAcard (@PSAcard) February 17, 2022
Collectors have been onto Witt since he first showed up on cardboard, snapping up over 81,000 of his cards in the last 12 months with more than $5 million spent on via eBay alone. Nineteen cards have sold for $10,000 or more in that time including a 2020 Bowman Chrome Gold Refractor Autograph graded BGS 9.5 that sold for $20,400.
While most people cannot afford to add astronomically priced cards like that to their collection, here's a handful of cards that any Witt Jr. collector should have. For the purposes of this list we're excluding parallels, but of course, the rarer the better.
#5 – 2019 Panini Stars & Stripes – Silhouettes Jersey Auto (#USA-BT)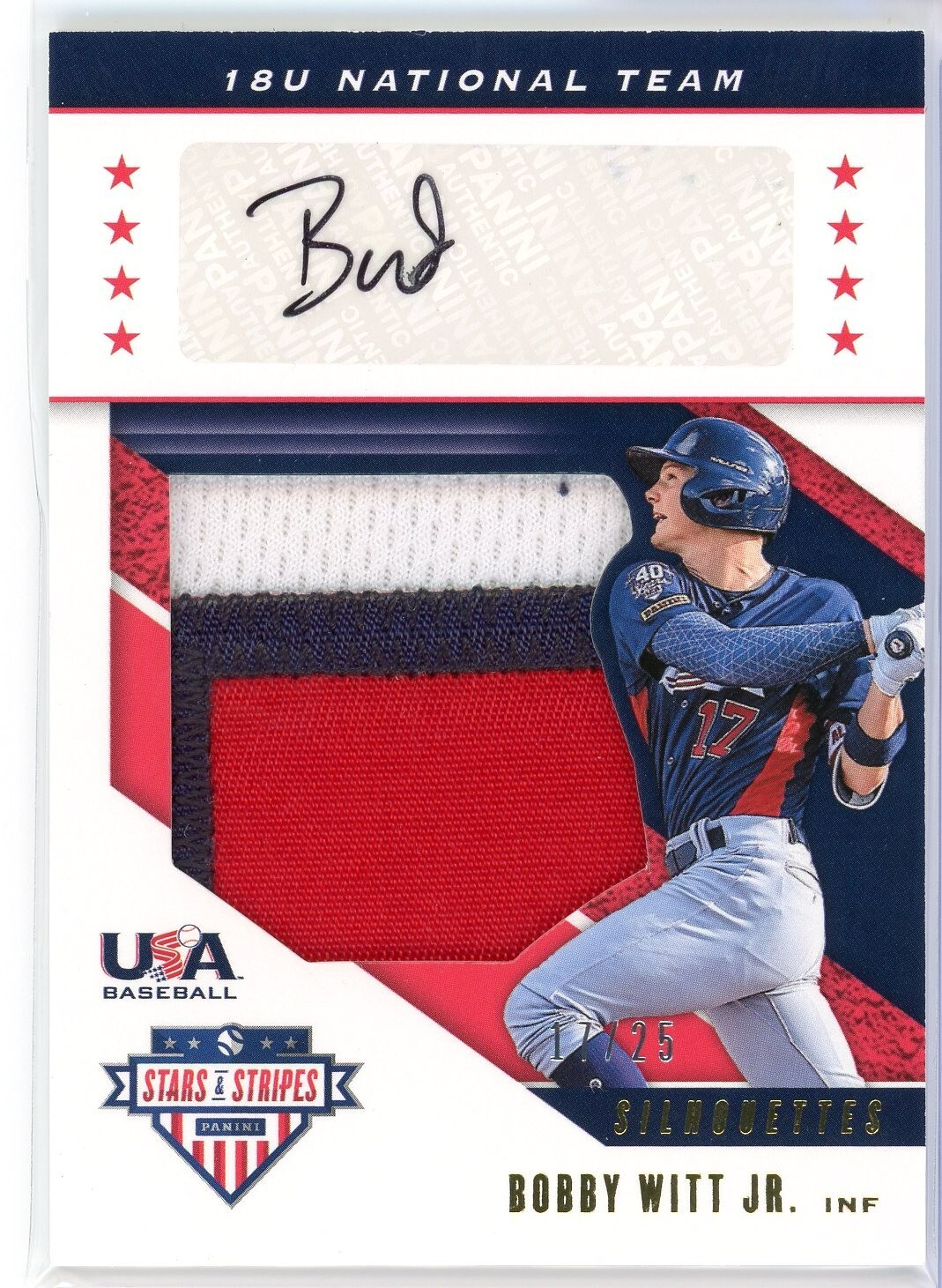 It's not a prospect card nor a rookie, but it's about as nice of a Panini baseball card as you could find. Panini has the license for USA Baseball cards which makes for some nice silhouette patch autos. The sticker auto is never aesthetically pleasing, but Witt Jr. does have other on-card autos in this set, which may be more appealing to collectors.
This card making the list is also a shout out to 2019 Panini Stars & Stripes baseball as a whole. The checklist features heaps of top prospects/current major leaguers such as Jack Leiter, Jordan Lawler, Marcelo Mayer, Adley Rutschman and Riley Greene. Pick one up here if you're fine with Witt Jr. sporting the Team USA blue over Royals blue.
#4 – 2022 Topps Definitive Collection – Definitive Rookie Autograph (#DRA-BWJ)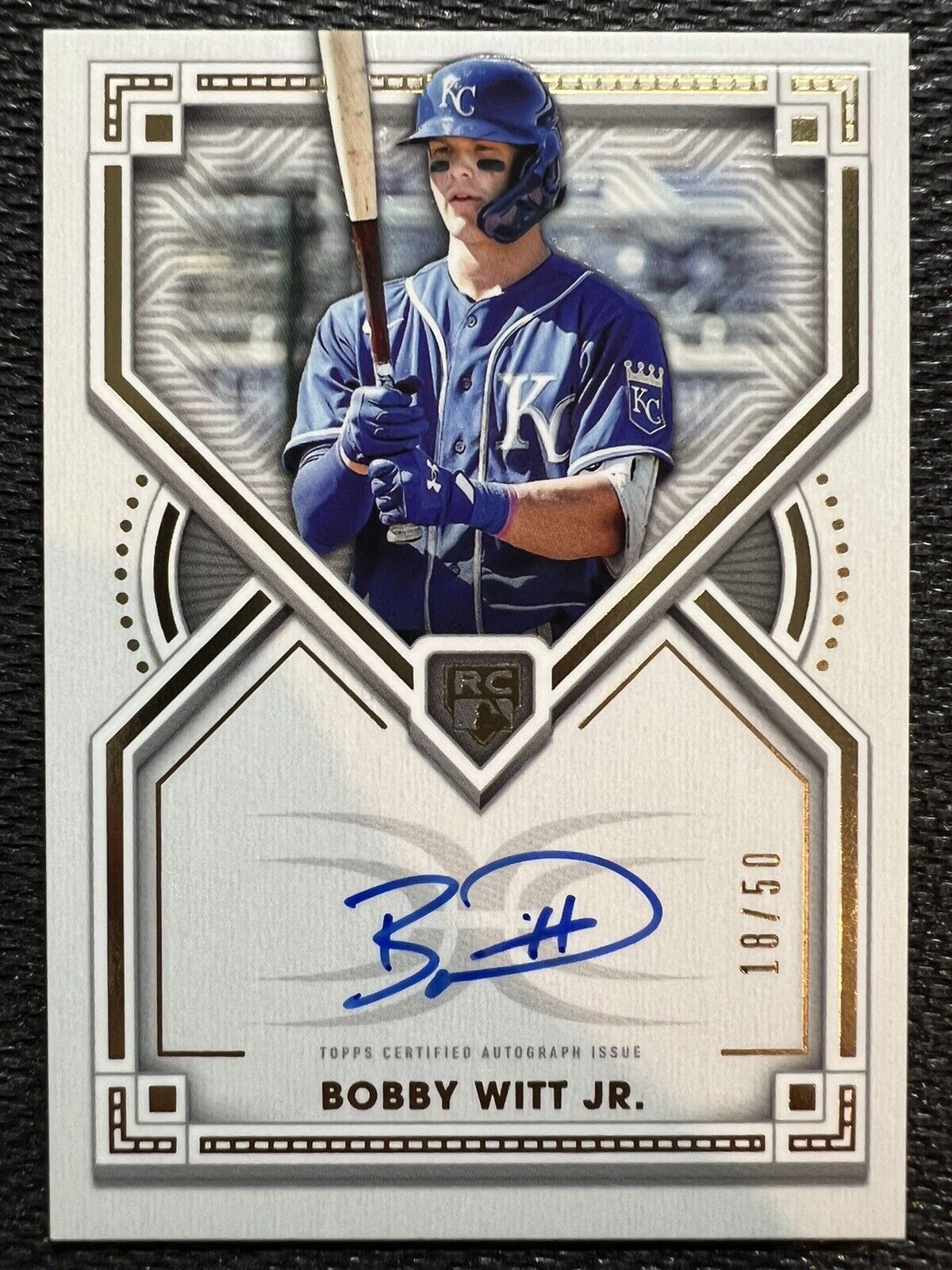 Topps Definitive is one of the most beautiful and higher-end products the brand releases every year. His base rookie autos in this release surprisingly don't hurt the wallet as much as you may think for a player of his potential. The base autos are numbered to 50, though there are a few different photos so it's not as scarce of a card as it may seem. It's one of his first true on-card rookies autos to be released. His very clean and consistent auto (much different than his auto in 2019 Panini Stars & Stripes) pops with the Royals blue uniform. It may be worthwhile to snag one of these before they become hard to find.
#3 – 2022 Topps Series 2 – Photo Variation SP (#660)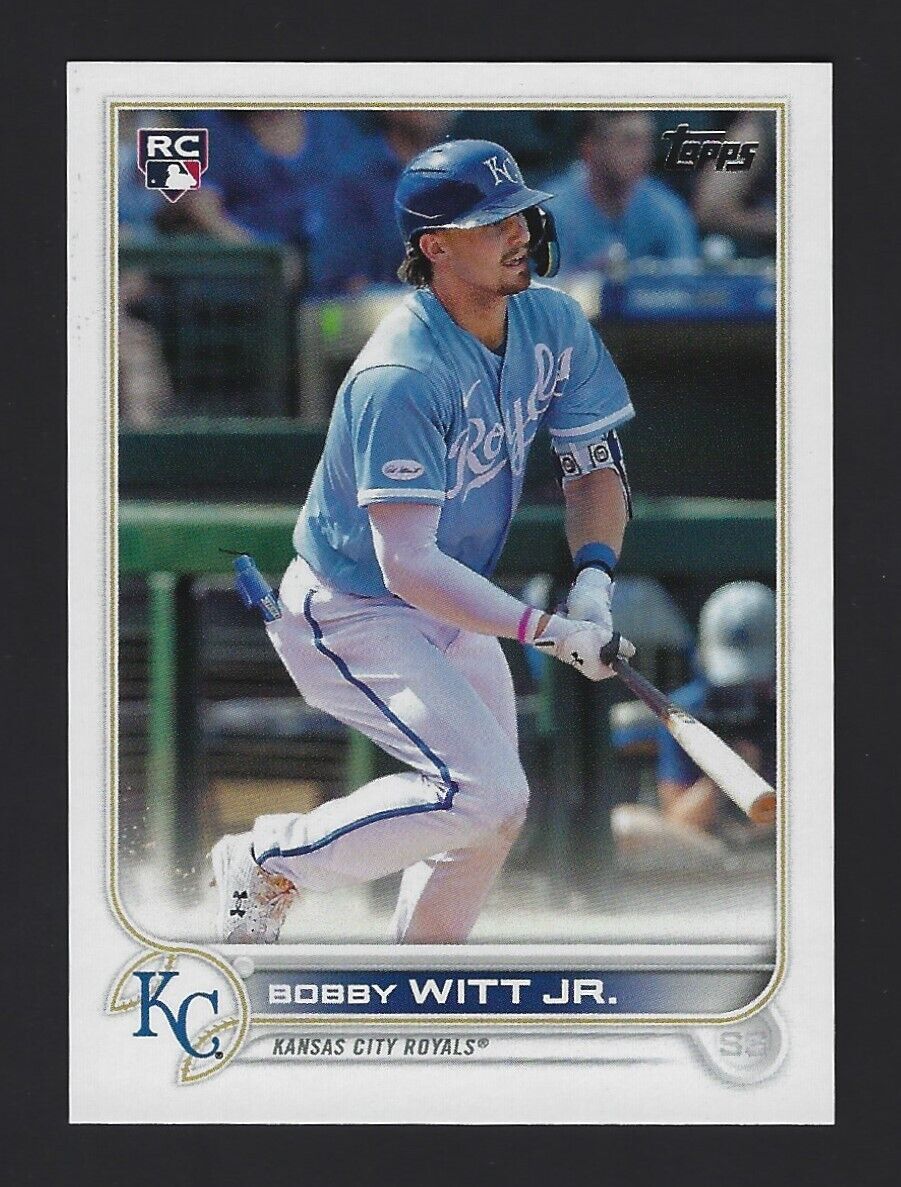 2022 Topps Series 2 faced backlash for a lackluster checklist that was made public prior to release. But, just as it came out, photo variation short prints of Spencer Torkelson, Julio Rodriguez and Bobby Witt Jr. were revealed. These photo variations may have saved the product and make it a fun chase for years to come. The Witt Jr. short print consistently sells for over $100. If you're picking one up, just be sure to not mistake it for its very similar counterpart in 2022 Topps Series 2 factory sets.
#2 – 2020 Bowman Chrome – 1st Bowman Chrome (#BCP-25)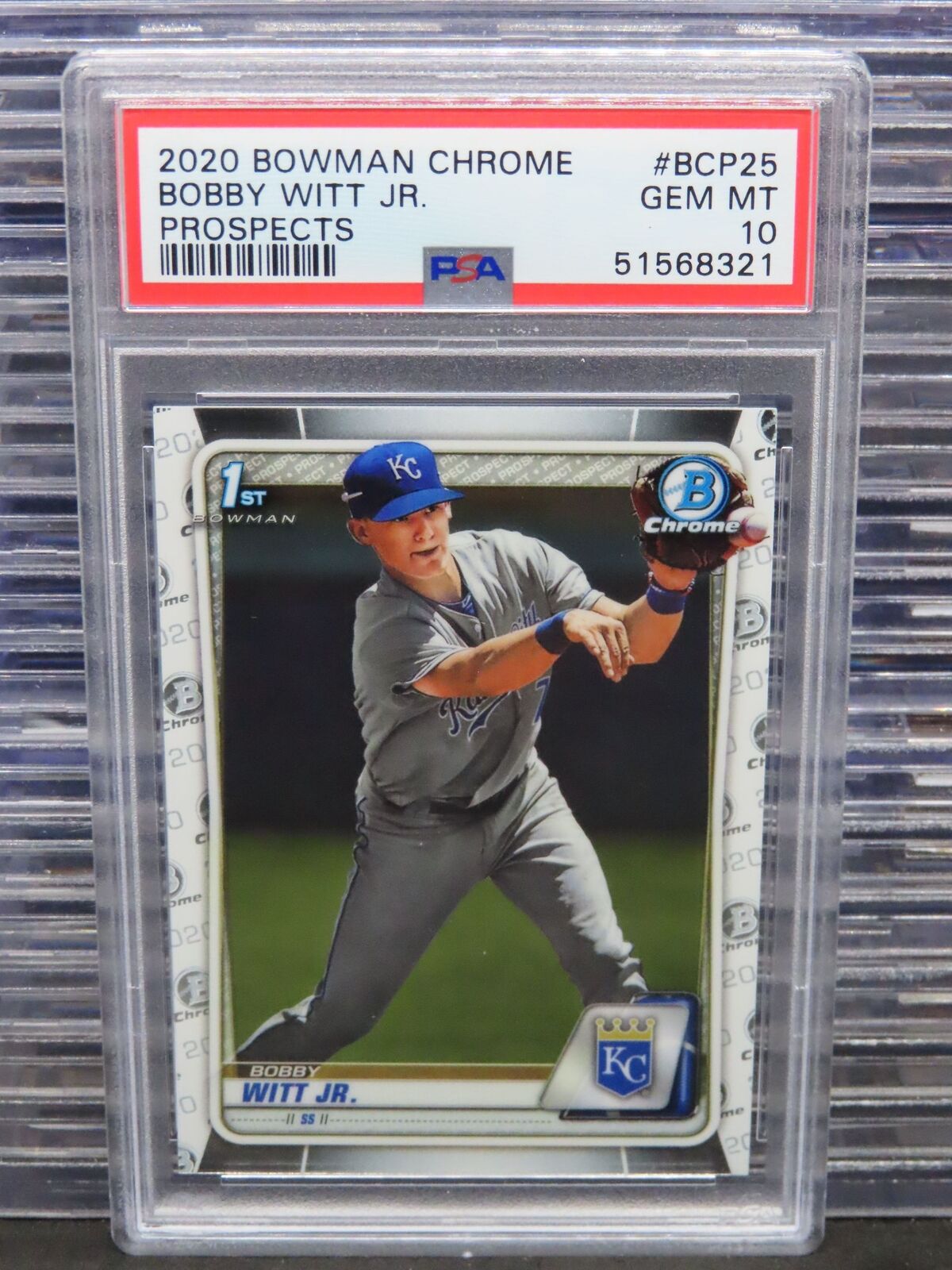 For any modern baseball collector, you'd be hard pressed to find a more iconic card than a 1st Bowman. The 2020 Bowman Chrome designed took a bit of a design chance with its product logo strewn along the sides of the cards. Like it or not, it makes the cards pop and really stand out. Since it's mass produced, the base Witt Jr. 1st Bowman is incredibly affordable for now. For a smaller investment into Witt Jr., buying a few 1st Bowman chrome cards is a home run.
#1 – 2020 Bowman Chrome Sapphire – 1st Bowman Chrome (#BCP-25)
What do you get when you take an already iconic brand and give them the sapphire touch? You get some of the most beautiful cards to be released every year. The team color match of the Royals blue with the sapphire design just adds to the charm. If you are only going to pick up one card on this list, the 2020 Bowman Chrome Sapphire is probably the way to go. It's still relatively affordable and easily the flashiest spectacle of a sports card that's been released.
You can check out all of Bobby Witt's cards produced during his rookie season on eBay here and see a live list of the most watched auctions via the live list below.